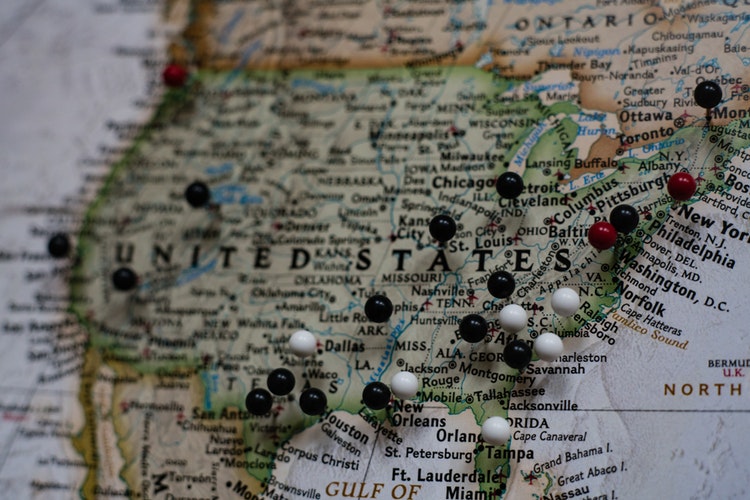 There are plenty of good reasons why you might want to buy a house in a different state from your current location — and thankfully, modern technology makes it possible to shop for a home and work hand-in-hand with trusted professionals who can make the process easier for you. Whether you're going to be living in the house full-time and want to have the purchase handled before you move, you'd like to find a vacation home in one of your favorite places to visit, or you are hoping to invest your money in real estate somewhere you don't actually live, you're not alone!
Plenty of people are buying homes from across the country these days, and you can make it work for you if you understand what's involved and make sure you're working with people you trust to help you make big decisions. To be successful in your remote purchase, make sure you're covering these basics.
Know Why You Want to Buy Remotely
It's absolutely fine to have more than one reason for buying a home in a different state — for example, perhaps you want a vacation home that you can also rent out short-term when you're not staying there to help cover the mortgage, so you're looking for both a second home and an investment property. But you need to think long and hard about your primary reason for buying a house in a state where you don't currently live full-time.
Depending on the desired use of the home you want to purchase will factor into the type of home you will want to look for. You'll really need to think through long term use of whatever type of property you are considering.
Research, Research, Research
You might have a general idea of where you want to buy a house — maybe you've always wanted to own a home in the mountains, on the beach, or in your favorite city to visit. But you'll need to get much more specific than that before you start seriously looking for a house and start the purchasing process.
What metro area or rural area will you be considering for your out-of-state home?
How well do you know that area and its neighborhoods or small towns?
Investors who want to buy a long-term rental and rent it out are going to want to consider not only crime rates and home appreciation in the possible neighborhoods and metros for buying a house, but also school ratings and commute times so they can attract the widest possible pool of well-qualified renters to their property.
Vacation-home and short-term-rental buyers are also going to want to think seriously about crime rates; homes that sit vacant for some or most of the year are prime targets for burglary and vandalism, which is not something you want to deal with remotely.
And of course, if you're going to be living in the house and working in the area, you'll want to know how close you are to work and how convenient (or inconvenient) it will be to shop for groceries, among other factors.
As a real estate agent I strongly recommend hiring a location real estate agent that knows the area and can answer the questions above. Keller Williams has real estate agents all over the world, literally, so if you are considering a purchase outside of Texas, let me help connect you to another trusted and experience KW agent!
Get Some Resident Opinions
Do you know anybody who lives in the area where you want to buy? This can be a huge asset when you're trying to purchase a home in a different state.
Get onto Facebook and see if the region or neighborhood has a group created, then join it. You might want to lurk for a little bit to make sure it's the kind of environment where people will welcome (and answer) your questions, but this can be a good place to start.
When you feel confident that your research has answered every question you have about the pros and cons of each possible market, town, or neighborhood, it's time to start narrowing down your choices to two or three (at most). Targeting your search is a smart thing to do, at least at the beginning.
Choosing a specific neighborhood or region also has the advantage of allowing you to do some really deep digging on the average homes — their size, their price, their lot size, their amenities, and so on.
Pre-Approval Still Matters
When you're buying a house remotely, you probably want the process to move along as quickly as possible, and you want to seem competitive with any local buyers. This means you really should get pre-approved by a mortgage lender before you start shopping in earnest. Securing a pre-approval can be time-consuming because you have to submit so much documentation about your finances, your income, and any expenses, but sellers know that buyers with pre-approvals are both serious about buying and actually have the means to purchase a house for the price they're offering.
A lender who operates in both your state and the state where you're hoping to buy might be a good choice for you because the lender should, in theory, be familiar with both areas.
Additionally, realtors won't typically show properties unless they know that client is pre-approved.
Securing the Mortgage Could be More Challenging
Even if this is a home purchase that you're intending to make your primary residence, be aware that getting a mortgage to buy a house in another state can require jumping through even more hoops than normal. For example, if you're relocating and are moving from a city where your employer has its main office to a location with a satellite office — or if you're planning to work remotely for your employer — then your mortgage lender is going to want proof that you'll still have a steady income after you move, and will want verification of what that income amount is going to be. This means you might need to get a certified letter or notice from your employer to provide to your lender.
Purchasing a vacation home or second home is also more challenging than buying a primary residence; your down payment requirement could very well be higher, and it's possible that you might not get as low a mortgage interest rate as you anticipated.
Walk Through a House at Least Once Before Making an Offer
This might not be possible depending on your own availability, but if you can, do your best to walk through any home you're seriously considering buying before you make an offer. Photos, video tours, and even Facetime walk-throughs are certainly valuable and can tell you a lot about a property, but there's also a lot you could be missing if you don't visit in person.
What's that weird smell in the bedroom, and can it be eliminated? Why do the floors slope like that in the hallway?
You don't want to discover that you can hear traffic from a nearby highway and that it keeps you awake at night after you move in.
If you can't visit the house in person, make sure that someone you trust — a friend or a family member who knows you well — can do so in your stead.
Try to Be There in Person for the Inspection
Maybe you couldn't make the pre-purchase walk-through, but one time when you really should try your very hardest to be present at the house during the closing process is for the inspection. The inspector is going to look at all the major systems in the house, check the appliances, open and close windows and doors, look for signs of damage or structural problems — and it's really in your best interests to be there in person so you can ask questions and request additional information or clarification around any fixes the inspector recommends or issues raised at the inspection. If it's absolutely impossible for you to make the inspection in person, ask your agent to attend and video chats with you while the inspection is taking place.
…And Consider Additional Inspections
Inspection requirements vary from state to state. Some states require pest inspections, for example, while others consider pest inspections optional. You might also want to get radon testing done if you're buying in a state where that's a factor, and there are a number of other inspections that might not be required to close, but that you might want to get anyway — especially if you haven't seen the house in person yet, or if you know you aren't going to be living there.
If something happens to your investment rental in between tenants while it's sitting vacant, and that something is a result of a problem that could have been uncovered in an optional inspection, you'll be kicking yourself for not seeing it sooner; a little extra money spent at this stage of the process could mean a lot saved down the road, so it's well worth it to be as thorough as possible with the inspection process.
Find a Trustworthy Property Manager
If the home is going to be an investment property or vacation rental, then you'll need someone to look after it while you're away. Your real estate agent probably has some recommendations for people who are reliable, trustworthy property managers, and this way you can make sure that the lawn is mowed, plumbing or electrical problems are promptly resolved, and the place is always ready for you when you show up for vacation or just to drop in and see how things are going.
Buying a house in another state might seem daunting, but it's far from impossible. Make sure you know why you want to make this leap and do your best to enlist the best possible professional support on all sides, and you'll be able to achieve your dream of real estate investment or homeownership — even from afar.